Brisbane News March 2017
 
Hanasho Mixed Artists Night
1st December 2016 6:30 – 8:30pm

……………………………………………………………………………….
St Sebastian's Art & Design Showcase

St Sebastian's Primary School P&F Association cordially invites you to come and immerse yourself in an elegant evening of art, design, culture and live music at the 2016 St Sebastian's Art & Design Showcase
Up to 300 pieces of original art and design from renowned, emerging and local artists and designers will be showcased on the school grounds and available for purchase. New this year is an amazing collection of high-end designer wares.
​

EXCLUSIVE VIP PREVIEW (Only 50 Tickets Available) Saturday 22 October 5pm – 6pm
GALA EVENT Saturday 22 October 6pm – 10.30pm
FAMILY FUN DAY AND VIEWING Sunday 23 October 9.30am – 2.30pm
……………………………………………………………………………….
8 Japan – Exhibition of 8 Japanese-influenced artists
From Wednesday August 17 to Sunday September 25
At Hilltop on Tamborine (1525 Tamborine-Oxenford Road, Wongawallan QLD 4210, phone: 07-5545-1424, email: email@hotmt.com.au )
Exhibiting artists : Mabina Alaka (accessories), Hiroaki Eba (ceramics, photographic collage works), Maki Horanai (sculpture/ceramics), Yumiko Kigoshi (Japanese brush and ink paintings), Ken Kikkawa (ceramics), Shinji Ogata (drawing and painting), John Pryke (photography) and Kay Watanabe (printmaking)
Official opening on Sunday 21 August from 11am to 4pm. Meet the exhibiting artists and enjoy their demonstrations and a Japanese drumming performance by Toko-ton.
Lunch and dinner ava…ilable – bookings essential.

…………………………………………………………………………….
I will be one of the presenters at
HEIA(Q) 2016 State conference: Home economics 2016

http://heiaq.com.au/events/conference/
 ………………………………………………………………………………
  I will be taking part in "BrisAsia Festival 2016 – "Kisaragi-sai" with a selection of my accessory ranges !
Sunday 28th Feb.
Roma St. parkland 12-6pm
Hope to see you there !!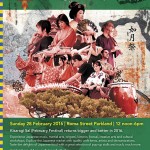 https://www.facebook.com/MabinaAlakaDesign/?ref=hl
Mixed artist exhibition
1st – 31st December
At Hanasho – Westend, Brisbane

 QAGOMA Store Christmas Design Market | Buy handmade this Christmas
28th November 2016

GoMA Winter Design Market
1st Aug, 2015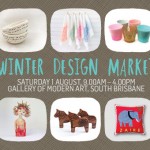 Exhibition
WABI SABI: THE BEAUTY OF IMPERMANENCE
SUNDAY 23 AUGUST – SUNDAY 4 OCTOBER 2015
Opening Event:
6pm Friday 21 August 2015
RSVP HERE
Floor Talk:
11.30am Sunday 23 August 2015
http://artgallery.redland.qld.gov.au/exhibitions/exhibitions-2015/wabi-sabi-the-beauty-of-impermanence/
UPCOMING PROGRAM
WEARABLE ORIGAMI SUMMER HOLIDAY WORKSHOP
12.00 – 2.00pm Saturday 13 December | GOMA
On the first day of the summer school holidays, teens aged 13 – 18 years are invited to participate in a hands-on workshop with accessory artist Mabina Alaka. Following a tour of the 'Future Beauty: 30 Years of Japanese Fashion' exhibition with the QAGOMA Teens team, combine the tradition of origami folding with contemporary pop culture imagery to create innovative wearable pieces.

GoMA Christmas Markets
29th Nov, 2014

Hanasho Mixed Artists X'mas Exhibition
4-31 December 2014
GoMA Markets – 19th July, 2014
The Winter Design Market will be on the 19th of July, 2014 in the Gallery of Modern Art's cultural forecourt and this event is not to be missed! Featuring stalls from many of Brisbane's leading craft artists and designers, there's something for everyone – jewellery, ceramics, textiles, paper products and more. 9am – 4pm at Stanley Place, South Brisbane.
www.facebook.com/events/302465439917156/Brooch_Show_2014_invite

Brisbane Craft Show – Mabina Alaka product demonstration
On the 8th-12th of October 2014 at Brisbane Craft Show, I will be showing off some exciting new products at the Photo Continental stand and doing some product demonstrations. This will be in the form of a product demonstration and will be completely free for everyone involved. Come in and see me at the Photo Continental stand in October!!
Toowoomba Vintage Brides Expo
It was lovely to meet brides in Toowoomba last weekend at the Toowoomba vintage brides wedding expo. This was a really good way for brides based in the darling downs region to take the stress out of their wedding by (hopefully) sourcing all of the suppliers for their wedding in one day. There was suppliers in several different areas including venues, make-up, cakes, invitation design, dressmakers, jewellery & accessories, photography, videography and plenty more. The day had an amazing vintage feel about it and the vendors certainly reflected this also.
Mabina Alaka brought her unique style of hand-made bridal jewellery and accessories and they were a hit with Toowoomba women. Mabina has an amazing selection of bridal wear available for brides on their special day. Particularly, the finely crafted bracelets and head pieces that Mabina makes by hand were popular, as these beautiful accessories are made using the finest quality materials. To see some of the range Mabina Alaka showed off at Toowoomba, click here.
Contemporary Art Society of Victoria Inc
For all of our Melbourne friends and handcrafted jewellery enthusiasts, Mabina Alaka has a range of high quality beautiful handcrafted jewellery on display at this special event held on Saturday the 12th of April, 12 noon at the Fitzroy library. This is situated at 128 Moor St, Fitzroy. The exhibition will then travel to various other libraries, including South Yarra Library in Toorak.
www.contemporaryartsociety.org.au/resources/Exhibitions/Brooch_Show/Brooch_Show_2014_invite.pdf